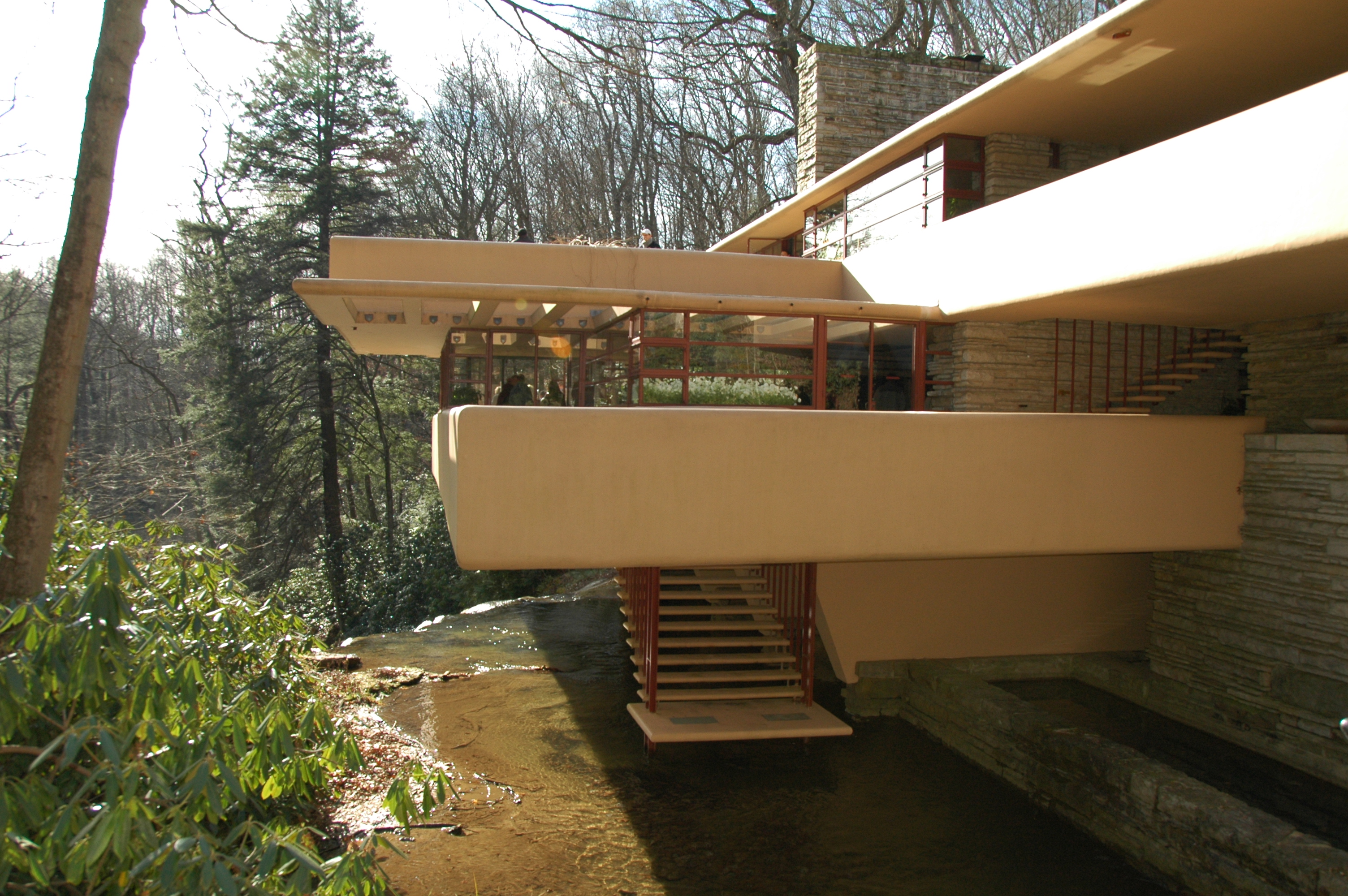 30th
November
2011
---
I went to Fallingwater last weekend with my wife and a good friend after years of driving right by the landmark. Let me explain. My great grandparents owned the farm that is beside Fallingwater and that farm has been passed down through the family. I have been making the trip to Mill Run, PA to visit family a couple times a year for as long as I can rememeber. I finally decided that I needed to see Fallingwater with my own eyes.
Here is a brief history lesson on the property. A group of Masons from Pittsburgh bought the property which would become Fallingwater in 1895. The property changed hands a few more times before E.J. Kaufmann started leasing the property in 1916 for Kaufmann employees. In 1921, E.J. purchased a mail order cottage and had it built on the property. This cottage became known as the "Hangover". Kaufmann's store bought the property in 1927 but only used it for an employee retreat for three years before the Kaufmann's personally took ownership 1933. Frank Lloyd Wright was asked to build the Kaufmanns a new country cottage at the site and the plans were made in 1935. Construction started in 1936 and the Kaufmanns were using the house in the fall of 1937. Other additions and changes were made and construction ended in 1939. The total cost to build the house was $155,000 and adjusted for inflation that is about 2.4 million today. In 1963 the house was donated to the Western Pennsylvania Conservancy and it opened as a museum in 1964.
So on a beautiful November day I took a tour of Fallingwater. I had a great time walking around the property and touring the house. It is beautiful and still looks modern. What really peaked my interest was the relationship my family had with the property and the Kaufmanns. My grandmother, who grew up in and currently lives in Mill Run, has many stories about the area and the Kaufmanns. I want to document a few of these soon but for now I will just mention a couple interesting facts. Before construction of Fallingwater my grandmother played at the site in and around the falls of Bear Run as a child. My great grandfather worked in the rock quarry on site during construction and earned 50 cents a day. If he brought horses and hauled the rock that was used to construct the walls of Fallingwater he earned $1 dollar a day. Since my great grandparents were next door neighbors with the Kaufmanns, E.J. would visit from time to time and my grandmother mentioned that he like to sit in a certain rocking chair that is still in the family.
I will be doing a lot more research into the relationships and events because of the history that my family has in that area. I would love to find some old family photos showing these stories and more.
Credits:
AIArchitect
Wikipedia
Fallingwater
photo: Justin Cook