Squad Five-O at Cornerstone 2012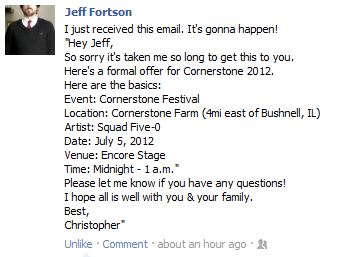 I just saw this on my Facebook news feed.
Event: Cornerstone Festival
Location: Cornerstone Farm (4mi east of Bushnell, IL)
Artist: Squad Five-0
Date: July 5, 2012
Venue: Encore Stage
Time: Midnight – 1 a.m.
I have never been to Cornerstone but 2012 may be the year.