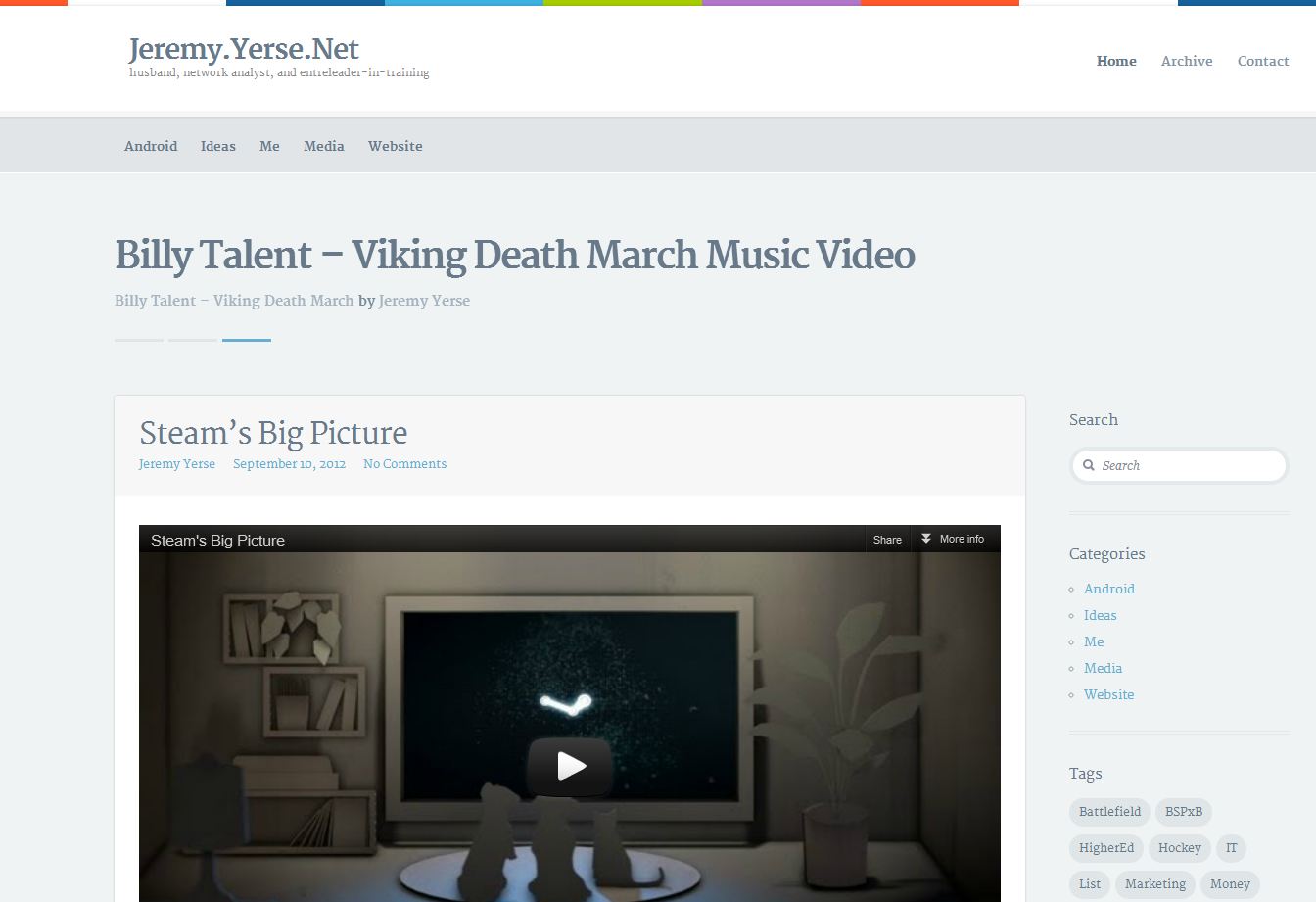 12th
September
2012
---
Last night I decided to make some changes to my website.
I got rid of the home page content for now and moved all the blog posts to the home page.
I disabled the Disqus commenting plugin and am back to using the default WordPress comments for now.
I changed themes.
I added an archives page.
I want to focus more on writing.
13th
April
2012
---
Here are some really good thoughts on when to refresh your website from Dave Ramsey.
Refresh Your Website
You know the old saying, "The only constant in life is change"? There's no place where that's truer than the web. It's continuously evolving, and as a business owner, you have to keep up.

1. This spring, take some time to evaluate your website through the eyes of your customers and ask yourself these questions.
2. Does your site look as dated as that old Members Only jacket hanging in your closet?
3. Have you been using the same old photos for the last five years?
4. Is there any outdated material on it?

If you answered yes to any of these questions, it's time to refresh your site. Remember, you don't have to be cutting edge, but you do have to give your customers a reason to return. Quick and easy solutions include regularly updated relevant content, special discounts and new product information.
I couldn't agree more. It is important to change your content frequently and give people a reason to come back to your website. Contact me if you want to know an easy way to accomplish this.
quoted from How to Spring Clean Your Business by Dave Ramsey
16th
February
2012
---
I recently received some advertising from a local lawn mower repair shop that I have used in the past. I am always interested in what small business owners are doing to promote their service and products.
This post card was offering a preseason maintenance special that expires in a couple weeks. The post card is white card stock and printed in black ink. So nothing fancy but it gets the point across.
A few things caught my eye as soon as I started inspecting it.
1. My name is spelled wrong. Not a great way to start.
2. The business email address ends with @yahoo.com
3. The website ends with tripod.com
4. The call to action (the most important info that makes the sale) is printed too large and the end of the phone number is outside of the print margin and the last two digits are cut off.
There is no excuse to have your website hosted on tripod with all the popup ads. None at all. Also double check everything every time.
Small business owners please consult with a professional. I think you would be surprised at the results. If your business does not have a domain name or you don't know what I am talking about. Please get a hold of me and I will get you pointed in the right direction.